Testosterone, the quintessential male hormone, is involved with a lot of what both men (and women!) think of as "manly". It's often viewed as determining power, force, and male energy.
However, not all men are wired the same way, and most experience changes in different ways as they start aging. If you could use a boost in your libido, want more energy at work or in the gym, or want to be able to satisfy your partner more, the right testosterone supplement may be able to help you.
Unfortunately, most supplement aisles are so crowded that it can be hard to figure out which product is right for you. Force Factor's Alpha King is a powerful supplement formulated to boost testosterone, delivering all of the beneficial effects that this type of boost can provide.
The Low Down on Boosting Testosterone
Men might turn to a testosterone-boosting supplement for a variety of reasons, including revitalizing their sex life, improving athletic performance, building more physical stamina and endurance, or simply feeling a bit more youthful. The great thing about testosterone supplements is that they are an easy way to help get you back on track. The bad thing about them is that quite a few don't do anything besides drain your bank account.
If you want a supplement you can trust, the first thing to do is a little research into the manufacturer. For example, let's take a closer look at Force Factor.
Force Factor is a Massachusetts-based company founded nearly a decade ago by a pair of former Harvard University rowers, giving them both the academic insight and firsthand fitness experience to develop products that you can be comfortable putting in your body.
What Makes Alpha King Different?
Once you trust the company behind the product, the next step is to look over the list of ingredients in the supplement. Some substandard products make their label as difficult to read as possible so buyers don't realize that the supplement doesn't actually do anything until it is too late.
In contrast, years of study went into formulating Alpha King. Its star ingredient is AlphaFen®, a proprietary extract from the fenugreek plant with many similarities to the ingredient used in most testosterone boosters.
AlphaFen® is believed to be even better than this other ingredient because its sapogenins (the constituent elements that do the testosterone boosting) are more bioavailable, which means they can be utilized by your body's physiology more easily. This provides a more noticeable effect from a smaller dose, making it both more effective and more convenient.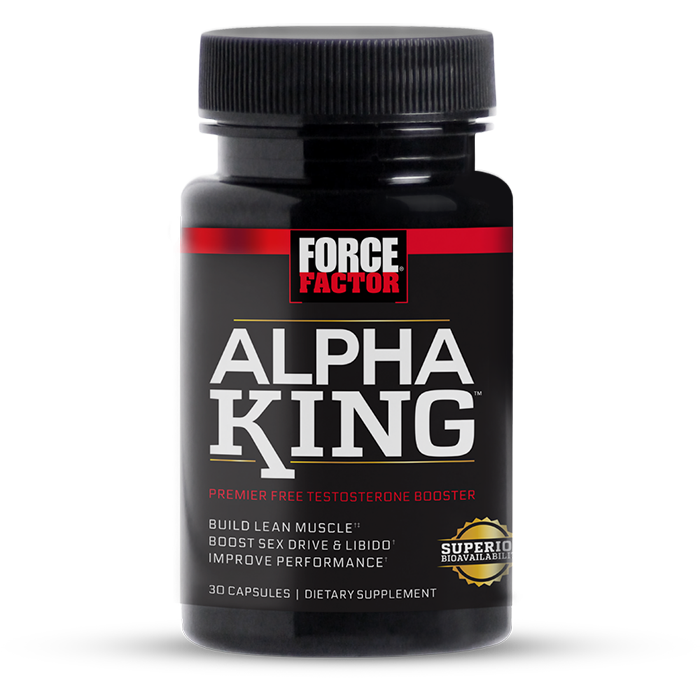 AlphaFen® alone would make a powerful supplement, but the makers of Alpha King went above and beyond by combining it with other powerful ingredients, as well. DIM (or diindolylmethane), black maca, and Tribulus terrestris are all traditional male vitality ingredients, and round out this powerful formula.
Testosterone-Boosting Benefits of Alpha King
Here is a full checklist of all of the benefits you can expect from Alpha King:
– Improved sex drive
– Improved ability to build lean muscle mass in the gym
– Improved physical stamina and endurance
– More satisfying sex
– More "pep in your step"
When taken as directed, Alpha King is not known to produce ANY adverse side effects, and we can attest to that fact after having taken the supplement for a few weeks now.
Regardless of our experience, it is still advisable to consult your doctor before adding any new dietary supplement to your routine.
Trying Force Factor's Alpha King for Yourself
If you're interested in trying Alpha King, it is available from reputable retailers such as GNC and Walmart for less than $69.99 per 30-day supply. However, we recommend placing at least your first order on the manufacturer's website (ForceFactor.com) to take advantage of their special deals.
Force Factor offers a 15-day sample for just $2.99 to cover shipping and handling, providing an extremely affordable way to try before you buy. If you love it, you'll automatically be enrolled in their VIP Membership program to ensure that you never run out of the supplement. Your card will automatically be billed $74.98 (+ tax) each time a bottle is shipped, and you can cancel at any time.
Final Thoughts: Our Experience with Alpha King
We had the opportunity to sample Alpha King for ourselves and are happy to report that it works exactly as promised. The energy boost feels incredible, whether you're powering through another set at the gym or just trying to get some work done at the office.
Personally, I also liked that I only needed take one capsule per day instead of multiple capsules multiple times per day like with other products. I'd take it every morning before brushing my teeth so it was easy for me to stay on top of taking Alpha King daily.
If you're interested in ruling your home, gym, or office like the Alpha King you were always meant to be, check out Alpha King and all of the next-gen supplements Force Factor has to offer.